Ronaldo hints at Old Trafford return
Submitted by
isport
on Fri, 09/05/2014 - 11:22
Cristiano Ronaldo has hinted he would love the chance to make a return to Manchester United later on in his career. While the reigning Ballon d'Or holder has admitted his love for the club where he really made his name has remained since his departure in 2009, Ronaldo has made it clear he isn't looking to leave Real Madrid any time soon.
With four years left on his current deal at the Bernabeu, United fans may have to wait a few years before ever seeing Ronaldo back in a red shirt.
Following his arrival in England as a teenager in 2003, Ronaldo wasted little time in establishing himself as one of European football's greatest talents during his six years at Old Trafford, winning three Premier League titles and a Champions League winners medal during a successful stay in Manchester. Since his departure to Real in 2009, Ronaldo has stepped up and cemented himself as one of the two best players of a generation alongside Barcelona's Lionel Messi, scoring a remarkable 178 goals from 166 appearances.
With United struggling to retain their position as the Premier League's biggest club since the departure of Sir Alex Ferguson, the club's supporters would love to see their hero back at Old Trafford, but it looks as though it'll be a while before that happens.
"I love Manchester; everyone knows that – I have said it many times. Manchester is in my heart. I left many good friends there, the supporters are amazing and I wish I can come back one day. I am happy here in Real Madrid and have four more years, but in the future you never know because they treated me unbelievably there."
With Ronaldo set for another four years in Madrid, United fans will be looking for a new hero to bring the glory days back to Old Trafford. Following last season's dismal campaign, the club have backed new manager Louis van Gaal in the summer transfer market in the hope of building a squad capable of challenging the likes of Manchester City and Chelsea in this year's Premier League title race. In Angel Di Maria and Radamel Falcao, United have signed two genuine world class players who could be the difference between a 7th place finish and finishing top of the table.
An underwhelming start to the season has seen many Betfair.com fans already writing off United's chances this year, but the late arrivals of Di Maria and Falcao before the end of the transfer window has seen a number of those doubters rightly feeling nervous about their decisions.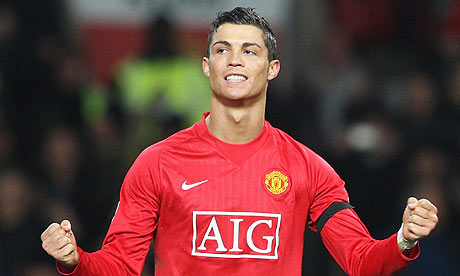 While there are undoubtedly still areas of this United squad which are lacking, the signings of two players of the calibre of Di Maria and Falcao has sent a clear signal to the club's rivals that van Gaal's men are going to be challenging for the title this year.
Ronaldo certainly feels the signings will help his former club regain their place at the top of English football.
"Manchester is passing through a bad moment. Last year it was a horrible season and this year they haven't started well either," said the Portugal captain.
"But I do think they did well to buy (Angel) Di Maria and (Radamel) Falcao. I think the team will be much better. I want to see them better because it is such a fantastic club and they deserve to be better. Falcao is a very good signing. He is a very good player."
While United will be looking to recover from an uninspiring start to the new Premier League season Ronaldo's focus will be on helping Real Madrid defend their Champions League crown as well as attempting to regain the La Liga title from city rivals Atletico Madrid. After opening their league campaign with a win, Real's season was dealt an early blow after surrendering a 2-0 lead to lose 4-2 at the hands of Real Sociedad, in a game Ronaldo was absent from.
Despite all the hype surrounding the arrival of World Cup sensation James Rodriguez from Monaco, the loss of key players Xabi Alonso and Angel Di Maria this summer have left some Real fans concerned about a lack of options in the midfield. The signing of Germany's World Cup winner Toni Kroos has been met with some excitement by the Real fans, although the midfielder has some way to go to if he is going to gain the same level of respect from the club's fans that Di Maria and Alonso built during their time at the club.
Once again, much of Real's success this season will be dependent on how Ronaldo performs. If the Portuguese star can reproduce the same level of performance he did last season, the decisions to allow Di Maria and Alonso to leave may well be justified and Real will definitely be in the title mix come the finals weeks of this year's campaign.